In a statement issued today, family members of Jiang Tianyong (江天勇), a prominent rights lawyer disappeared in November 2016 in Changsha and who was officially arrested on suspicion of "subversion of state power" on May 31, 2017, protest the authorities' refusal to let lawyers retained by the family to meet with Jiang.
Calling it a "farce," the family members—Jiang's wife and parents—reject the authorities' claim that Jiang has already retained two officially-appointed lawyers to represent him.
The two lawyers retained by Jiang's family are Chen Jinxue (陈进学) and Zhang Lei (张磊).
Below is HRIC's translation of the statement.
---
Statement Condemning Enforced Appointment of Lawyers for Jiang Tianyong
June 15, 2017
[Translation by Human Rights in China]
On June 15, 2017, the lawyers retained by our family requested to visit Jiang Tianyong in Changsha City No.1 Detention Center. The request was denied by Deputy Director Zeng, claiming that "Jiang Tianyong has appointed two lawyers already." It seems the authorities are playing their old trick and are forcing officially-appointed lawyers on Jiang Tianyong. In addition, yesterday, the two lawyers representing Wang Quanzhang (王全璋) were also notified that two officially-appointed lawyers have taken up Wang Quanzhang's case.
Hearing this news, we are beside ourselves with anger. Officially-appointed lawyers have become standard in the 709 cases, same as in Li Heping's (李和平) case and Xie Yang's (谢阳) case earlier. And the officially-appointed lawyers are fully cooperating with the authorities to play their roles in the farce of "ruling the country by Law." Towards this, we adhere to the principle of "Three Don'ts":  don't recognize, don't agree, and don't accept.
On May 31, Changsha police thrust out the "Statement by Jiang Tianyong Dismissing His Lawyers." We don't recognize its authenticity, and believe it was coerced from Jiang Tianyong under torture and in complete isolation from the outside world. Because he took over Jiang Tianyong's case, lawyer Qin Chenshou (覃臣寿) encountered obstacles in his annual lawyer's licensing inspection and was forced to withdraw from the case. Now, we, the family, have formally appointed lawyer Zhang Lei as the new defense representative.
Again, we reiterate our position and declaration:
1.  We absolutely do not recognize or accept officially-appointed lawyers, Lawyers Chen Jinxue and Zhang Lei are the legal defenders of Jiang Tianyong. We reserve the right to sue the government units handling the case on account of their unlawful appointment of lawyers;
2. We demand that the authorities disclose the names of the officially-appointed lawyers and their professional affiliations, so that we, the family members, can confirm [their identities] and submit complaints about their violations of professional conduct; and
3. We urge the officially-appointed lawyers not to play the role of "Zi Gan Bao" [volunteer police] and insult the professional dignity of lawyers.
Jiang Tianyong's Wife: Jin Bianling (金变玲)
Jiang Tianyong's Mother: Wei Ziyun (魏自云)
Jiang Tianyong's Father: Jiang Lianghou (江良厚)
Arrest Notice of Jiang Tianyong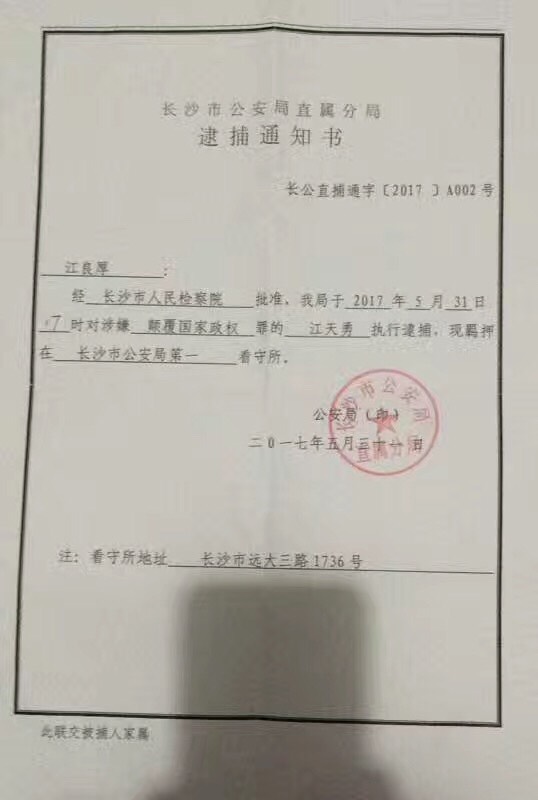 未经允许不得转载:公民 » Jiang Tianyong's Family Rejects Officially-Appointed Lawyers